Welcome to Sabin Levi's Home Page!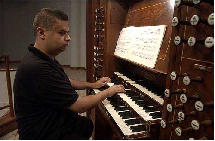 Concerts, lectures

Books and CDs

Curriculum vitae (.pdf)

CV in Bulgarian (.pdf)



FOR STUDENTS:

Conspect (pdf)

Syllabus




Graduated from the Sofia Music High school. Studied in the Sofia Music Academy, Jerusalem Rubin Academy for Music and Dance, Brigham Young University, and The University of Kansas. Also with Yanka Hekimova in Paris. Associate professor of music theory and organ, National Music Academy "Professor Pancho Vladigerov" in Sofia, Bulgaria.

You may also want to visit our new site for musicology.